There are two great beaches close to Argostoli, Makris Gialos is a popular one at about 8 minutes (3 km) away. It is a golden sand beach surrounded by tall pine trees that is well organised with water sports facilities and a beach bar.
What is close by 
Saint Helis
Minies Beach ( walking distance 500meters)
Englina Beach (walking distance 700 meters)
Ammes Beach ( walking distance 800 meters)
Avithos Beach ( needs a car 1 km)
Costa Costa beach (1 km needs a car has a parking lot)
Argostoli Town Centre ( 6km)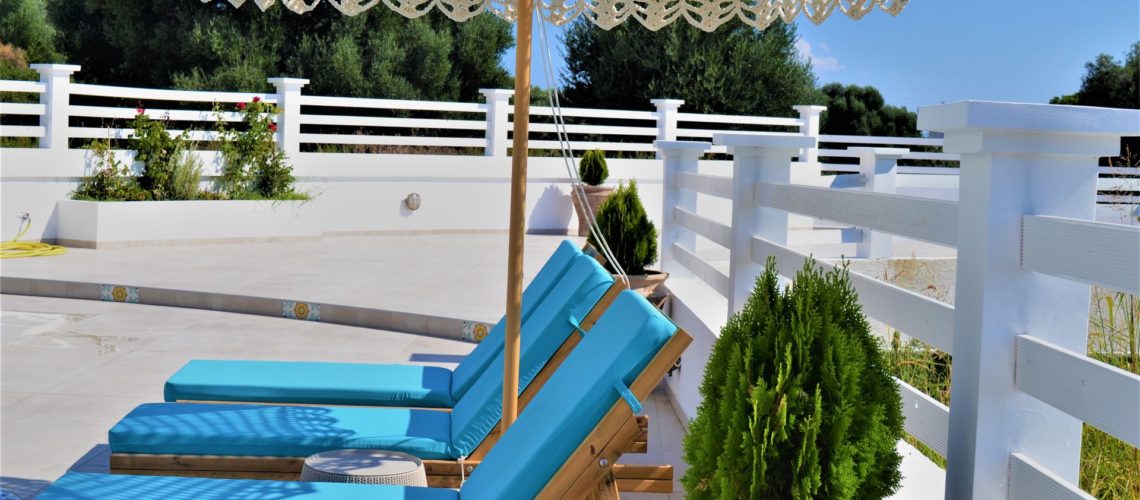 The less known Paliostafida beach is also organised but gathers less crowds than Makris Gialos, and features green landscapes and shallow waters. It is even closer, reachable within 7 minutes (2,7 km) from Argostoli.
At a distance of 20 minutes (12 km) towards the south west of Kefalonia you will reach Ai Helis and Avithos beaches. Ai Helis is an ideal beach for families as it features sand and shallow waters plus some water sports and volleyball facilities. Avithos beach is one of the most unique beaches boasting reddish sand and a mountainous backdrop, and has a few taverns nearby. Trapezaki beach also offers visitors amenities and sunbeds, being a mix between quiet and noisy depending on where you choose to sit. Lourdas beach is also within the vicinity at around 26 minutes (17 km) from Argostoli; easily accessible from the town by way of buses, it has white sand, it is well organised and has a mountainous but lush background too, but also features waterfalls running through the mountains.
The trademark beach of Kefalonia is undoubtedly the striking Myrtos, which is the most photographed spot on the entire island. Located to the north, at a distance of about 40 minutes (28 km) from Argostoli, Myrtos beach is in many ways indescribable and will definitely take your breath away with its imposing beauty.
At a similar distance away but towards the village of Sami on the east side of the island, Antisamos, 46 minutes (30 km) from Argostoli, is a well organised also famous beach of Kefalonia, where some scenes of 'Captain Corelli's Mandolin' were filmed.
Myrtos Beach  is in the region of Pylaros, in the north-west of Kefalonia island. Myrtos beach lies between the feet of two mountains.
Beaches over 30 km from Argostoli
Towards the south east, 40 minutes (24 km) from the capital, the sandy beach of Koroni welcomes the visitor with its tall, steep cliffs of lush vegetation, well equipped with umbrellas and sunbeds.
Petani beach is found on the west part of Kefalonia, on the peninsula of Paliki, at a distance of 50 minutes (35 km) from Argostoli. A spectacular half sandy, half pebble beach with verdant cliffs and alluring azure waters; however they deepen suddenly so this beach is not recommended for families with young children.
Towards the south east, at approximately 55 minutes drive (37 km) from Argostoli, the Blue Flag beach of Skala awaits, with umbrellas and sunbeds on its sandy shore. A great spot for snorkeling and with many cafes and tavernas near by, it tends to become somewhat crowded. Kaminia beach is in close proximity to Skala beach and is one of the longest, sandy beaches. It is considered to be one of the quietest, organised beaches where relaxation is key.
On the north side of the island, near the picturesque fishing village and harbour of Fiskardo, is Foki beach, meaning seal in Greek, with its olive tree forest landscape that goes down to almost meet the water, providing a natural shade even though there are no sunbed facilities on the beach. It is a location once preferred by the endemic seals of the region, and a favourite among private yacht owners. Foki is situated in the north east of Kefalonia at 1 hour and 10 minutes (48 km) from Argostoli.
Near Fiskardo are two more noteworthy beaches, Emblisi beach which is unorganised but beautiful comprised of white pebbles, and Alaties beach, which is small and sandy set amidst a tiny, gorgeous cove with a quaint tavern located nearby.