Set amidst surroundings that allow visitors to soak in the natural beauty of the landscape are the Monastery of Atros in Peratata, the most ancient Byzantine structure in Kefalonia at 700 m altitude which is accessed by car until a certain point, then by way of scenic a hiking route. The Monastery of St. Andreas is in the same region and dates back to the 13th century; it houses a rare collection of icons and exhibits as part of the Ecclesiastical Museum that was established in 1988 therein. The Kipouria Monastery in Paliki village similarly is a 17th century structure and stands proudly among the most majestic of landscapes.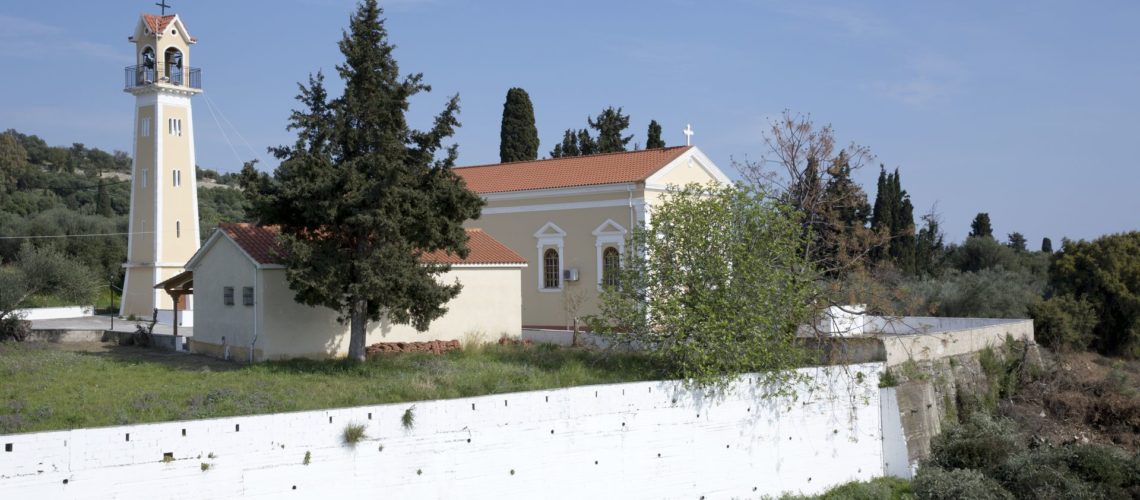 In the village of Markopoulo, over the site of an old monastery, you will find the Church of the Virgin Mary Lagouvarda, one of the most famous churches in Kefalonia due to the legend of the protective snakes that appear typically between 6th and 16th August. They are said to be a good omen since they are harmless to those who do not threaten the holy abode.
Within the confines of Argostoli town, you can easily visit the Monastery of St. Gerasimos, the patron saint of Kefalonia known for his gift of curing illness. The Monastery was built in the 16th century to encompass two caves that the Saint used as living quarters during his lifetime, and is situated above the tomb where his relics lie, entirely uncorrupted until this day. In Argostoli you will also find the only Catholic Church on the island, that of St. Nicholas, in the picturesque area of Lithostroto, which welcomes many faithfuls during the most religious times of the year. Finally, the Drapano cemetery, the resting place of many people of British descent, is considered an outdoor gallery of marble and stone funerary monuments so grandiose that a walk around is more like a tour than anything else.